TangoAbend Spezial – Live Musik – Orquesta La Juan d'Arienzo
NUR NOCH ABENDKASSE!
Wir haben nur noch wenige Karten!
Etwas ganz Besonderes: Eines der aktuell spektakulärsten argentinischen Tangoorchester wird auf ihrer Europatournee im weRK36 spielen. Mit La Juan d'Arienzo kommen 10 (!) tolle Musiker voll Enthusiasmus und Spielfreude zu uns.
Nutzt die Gelegenheit das fantastische Orchester live zu erleben und merkt Euch den Termin vor!
Vorgeschmack gefällig?: 9 de Julio
Wann: Dienstag 23. Mai 20:30 – 1:30
Eintritt: 23 € pro Person im Vorverkauf im weRK36 bis zum 20.05.2023 um 20 Uhr!
Abendkasse: 28 € pro Person
Bitte beachtet, dass die Karten limitiert sind, da bei einem 10-Personen-Orchester wir nicht so viele Tänzer:innen in unserem Ort aufnehmen können.
__________________________________________________________
One of the currently most spectacular Argentinean Tango Orchestras will play at weRK36 on their European tour 2023.
With La Juan D'Arienzo, 10 (!) great musicians full of enthusiasm and joy of playing will come to us – during the EMBRACE FESTIVAL.
Take the opportunity to experience this fantastic Orchestra live and save the date! Advance booking now at weRK36.
When: Tuesday 23 May 20:30 – 1:30
Admission: 23 € per person in advance at weRK36 until 20.05.2023 at 8pm!
Box office: 28 € per person
Please note that tickets are limited, as we cannot accommodate so many dancers with a 10-person orchestra.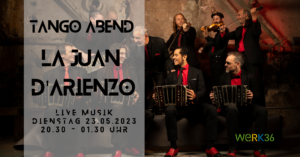 stdClass Object ( [ID] => 42415 [data] => stdClass Object ( [ID] => 42415 [title] => TangoAbend Spezial – Live Musik – Orquesta La Juan d'Arienzo [content] => [post] => WP_Post Object ( [ID] => 42415 [post_author] => 3 [post_date] => 2023-04-28 11:36:40 [post_date_gmt] => 2023-04-28 11:36:40 [post_content] => <strong>NUR NOCH ABENDKASSE! Wir haben nur noch wenige Karten!</strong> Etwas ganz Besonderes: Eines der aktuell spektakulärsten argentinischen Tangoorchester wird auf ihrer Europatournee im weRK36 spielen. Mit La Juan d'Arienzo kommen 10 (!) tolle Musiker voll Enthusiasmus und Spielfreude zu uns. Nutzt die Gelegenheit das fantastische Orchester live zu erleben und merkt Euch den Termin vor! Vorgeschmack gefällig?: <a href="https://www.youtube.com/watch?v=tikAAzMz7RY&t=9s">9 de Julio</a> Wann: Dienstag 23. Mai 20:30 - 1:30 Eintritt: 23 € pro Person im Vorverkauf im weRK36 bis zum 20.05.2023 um 20 Uhr! Abendkasse: 28 € pro Person Bitte beachtet, dass die Karten limitiert sind, da bei einem 10-Personen-Orchester wir nicht so viele Tänzer:innen in unserem Ort aufnehmen können. __________________________________________________________ One of the currently most spectacular Argentinean Tango Orchestras will play at weRK36 on their European tour 2023. <div dir="ltr">With La Juan D'Arienzo, 10 (!) great musicians full of enthusiasm and joy of playing will come to us - during the EMBRACE FESTIVAL. Take the opportunity to experience this fantastic Orchestra live and save the date! Advance booking now at weRK36. When: Tuesday 23 May 20:30 - 1:30 Admission: 23 € per person in advance at weRK36 until 20.05.2023 at 8pm! Box office: 28 € per person Please note that tickets are limited, as we cannot accommodate so many dancers with a 10-person orchestra. </div> <img class="alignnone wp-image-42513" src="https://werk36.de/wp-content/uploads/2023/04/Tango-Abend-La-Juan-dArienzo-Live-Musik-23.05.2023-Tanzschule-weRK36-Facebook-300x157.png" alt="" width="569" height="298" /> [post_title] => TangoAbend Spezial - Live Musik - Orquesta La Juan d'Arienzo [post_excerpt] => [post_status] => publish [comment_status] => closed [ping_status] => closed [post_password] => [post_name] => tangoabend-milonga-lajuandarienzo-23052023 [to_ping] => [pinged] => [post_modified] => 2023-05-20 20:45:17 [post_modified_gmt] => 2023-05-20 20:45:17 [post_content_filtered] => [post_parent] => 0 [guid] => https://werk36.de/?post_type=mec-events&p=42415 [menu_order] => 0 [post_type] => mec-events [post_mime_type] => [comment_count] => 0 [filter] => raw ) [meta] => Array ( [mec_color] => e14d43 [mec_location_id] => 67 [mec_dont_show_map] => 1 [mec_organizer_id] => 170 [mec_start_date] => 2023-05-23 [mec_start_time_hour] => 8 [mec_start_time_minutes] => 30 [mec_start_time_ampm] => PM [mec_start_day_seconds] => 73800 [mec_end_date] => 2023-05-24 [mec_end_time_hour] => 1 [mec_end_time_minutes] => 30 [mec_end_time_ampm] => AM [mec_end_day_seconds] => 5400 [mec_date] => Array ( [start] => Array ( [date] => 2023-05-23 [hour] => 8 [minutes] => 30 [ampm] => PM ) [end] => Array ( [date] => 2023-05-24 [hour] => 1 [minutes] => 30 [ampm] => AM ) [comment] => [repeat] => Array ( [type] => daily [interval] => 1 [advanced] => [end] => never [end_at_date] => [end_at_occurrences] => 10 ) ) [mec_repeat] => Array ( [type] => daily [interval] => 1 [advanced] => [end] => never [end_at_date] => [end_at_occurrences] => 10 ) [mec_certain_weekdays] => Array ( ) [mec_allday] => 0 [mec_hide_time] => 0 [mec_hide_end_time] => 0 [mec_comment] => [mec_repeat_status] => 0 [mec_repeat_type] => [mec_repeat_interval] => 1 [mec_repeat_end] => [mec_repeat_end_at_occurrences] => [mec_repeat_end_at_date] => [mec_advanced_days] => Array ( ) [mec_in_days] => [mec_not_in_days] => [mec_hourly_schedules] => Array ( ) [mec_booking] => Array ( [bookings_limit_unlimited] => 0 [bookings_limit] => [roles_discount_administrator] => [roles_discount_editor] => [roles_discount_author] => [roles_discount_contributor] => [roles_discount_subscriber] => [roles_discount_backwpup_admin] => [roles_discount_backwpup_check] => [roles_discount_backwpup_helper] => [roles_discount_translator] => [bookings_all_occurrences] => 0 [bookings_all_occurrences_multiple] => 0 [show_booking_form_interval] => [stop_selling_after_first_occurrence] => 0 [auto_verify] => global [auto_confirm] => global [last_few_tickets_percentage_inherit] => 1 [last_few_tickets_percentage] => 15 [thankyou_page_inherit] => 1 [booking_thankyou_page] => [booking_thankyou_page_time] => 2000 [bookings_user_limit_unlimited] => 1 [bookings_user_limit] => ) [mec_tickets] => Array ( ) [mec_fees_global_inheritance] => 1 [mec_fees] => Array ( ) [mec_ticket_variations_global_inheritance] => 1 [mec_ticket_variations] => Array ( ) [mec_reg_fields_global_inheritance] => 0 [mec_reg_fields] => Array ( [5] => Array ( [mandatory] => 1 [type] => name [label] => Nachname ) [7] => Array ( [mandatory] => 1 [type] => mec_email [label] => Deine E-Mail-Adresse ) [:i:] => Array ( [mandatory] => 1 [type] => p [label] => I agree with %s [mapping] => [ignore] => 0 [page] => 14201 [status] => checked [content] => ) [:fi:] => Array ( [options] => Array ( [:i:] => Array ( [label] => ) ) ) ) [mec_op] => Array ( ) [mec_event_date_submit] => 20230510164442 [_edit_lock] => 1684615391:3 [_edit_last] => 3 [mec_read_more] => [mec_more_info] => [mec_more_info_title] => [mec_more_info_target] => _self [mec_cost] => € 23 pro Person VVK | € 28 pro Person - Karten sind limitiert [mec_additional_organizer_ids] => Array ( ) [mec_additional_location_ids] => Array ( ) [one_occurrence] => 0 [mec_timezone] => global [mec_countdown_method] => global [mec_bfixed_fields] => Array ( [1] => Array ( [mandatory] => 1 [type] => text [label] => Vorname ) [2] => Array ( [mandatory] => 1 [type] => text [label] => Nachname ) [3] => Array ( [mandatory] => 1 [type] => email [label] => E-Mail-Adresse ) [4] => Array ( [mandatory] => 1 [type] => tel [label] => Telefon ) [5] => Array ( [mandatory] => 1 [type] => text [label] => Straße ) [6] => Array ( [mandatory] => 1 [type] => text [label] => PLZ ) [7] => Array ( [mandatory] => 1 [type] => text [label] => Ort ) [34] => Array ( [mandatory] => 1 [type] => text [label] => Anzahl der Personen ) [36] => Array ( [mandatory] => 1 [type] => radio [label] => Bezahlung [options] => Array ( [1] => Array ( [label] => Bar vor Ort ) [2] => Array ( [label] => anderes: bitte Möglichkeiten per E-Mail zusenden ) ) ) [16] => Array ( [type] => p [content] => <h4 class="mec-frontbox-title" style="font-size: 15px"></h4> ) [18] => Array ( [mandatory] => 0 [type] => checkbox [label] => Wie bist du auf uns aufmerksam geworden? [options] => Array ( [1] => Array ( [label] => Internet ) [2] => Array ( [label] => Social Media ) [3] => Array ( [label] => Werbeflyer ) [4] => Array ( [label] => Freunde / Bekannte ) [5] => Array ( [label] => frühere Tanzkurse ) ) ) [19] => Array ( [mandatory] => 0 [type] => textarea [label] => Nachricht an weRK36 ) [22] => Array ( [type] => p [content] => <h4 class="mec-frontbox-title" style="font-size: 15px"></h4> ) [26] => Array ( [mandatory] => 0 [type] => agreement [label] => dummy [page] => 10610 [status] => unchecked ) [21] => Array ( [mandatory] => 1 [type] => agreement [label] => Ich/Wir akzeptieren die %s. [page] => 14276 [status] => unchecked ) [23] => Array ( [mandatory] => 1 [type] => agreement [label] => Ich habe die %serklärung gelesen. [page] => 14280 [status] => unchecked ) [29] => Array ( [mandatory] => 0 [type] => text [label] => Event Enddatum ) [30] => Array ( [mandatory] => 0 [type] => text [label] => Event Anzahl ) [31] => Array ( [mandatory] => 0 [type] => text [label] => Event Dauer ) [32] => Array ( [mandatory] => 0 [type] => text [label] => Event Zeit ) [33] => Array ( [mandatory] => 0 [type] => text [label] => Preis ) [28] => Array ( [type] => p [content] => <script> let data = jQuery('#werk-event-data'); let time = jQuery('#werk-event-time'); jQuery('.mec-book-bfixed-field-text[data-field-id="29"]').find('input').val(data.attr('data-event-end')); jQuery('.mec-book-bfixed-field-text[data-field-id="30"]').find('input').val(time.attr('data-event-count')); jQuery('.mec-book-bfixed-field-text[data-field-id="31"]').find('input').val(time.attr('data-event-duration')); jQuery('.mec-book-bfixed-field-text[data-field-id="32"]').find('input').val(data.attr('data-event-starttime')+' - '+data.attr('data-event-endtime')); jQuery('.mec-book-bfixed-field-text[data-field-id="33"]').find('input').val(data.attr('data-event-cost')); </script> ) [:i:] => Array ( [mandatory] => 1 [type] => p [label] => I agree with %s [ignore] => 0 [page] => 14201 [status] => checked [content] => ) [:fi:] => Array ( [options] => Array ( [:i:] => Array ( [label] => ) ) ) ) [mec_fields] => Array ( [1] => hier Karten buchen ) [mec_event_status] => EventScheduled [mec_moved_online_link] => [mec_cancelled_reason] => [mec_display_cancellation_reason_in_single_page] => [slide_template] => default [_wp_old_slug] => vorlage-event [mec_public] => 1 [mec_currency] => Array ( ) [event_past] => 1 ) [mec] => stdClass Object ( [id] => 1013 [post_id] => 42415 [start] => 2023-05-23 [end] => 2023-05-24 [repeat] => 0 [rinterval] => [year] => [month] => [day] => [week] => [weekday] => [weekdays] => [days] => [not_in_days] => [time_start] => 73800 [time_end] => 5400 ) [time] => Array ( [start] => 20:30 [end] => 1:30 [start_raw] => 20:30 [end_raw] => 1:30 [start_timestamp] => 1684873800 [end_timestamp] => 1684891800 ) [hourly_schedules] => Array ( ) [tickets] => Array ( ) [color] => e14d43 [permalink] => https://werk36.de/anmeldung/tangoabend-milonga-lajuandarienzo-23052023/ [thumbnails] => Array ( [thumbnail] => [thumblist] => [gridsquare] => [meccarouselthumb] => [medium] => [large] => [full] => [tileview] => ) [featured_image] => Array ( [thumbnail] => [thumblist] => [gridsquare] => [meccarouselthumb] => [medium] => [large] => [full] => [tileview] => ) [tags] => Array ( [135] => Array ( [id] => 135 [name] => Event ) [169] => Array ( [id] => 169 [name] => Events ) ) [organizers] => Array ( [170] => Array ( [id] => 170 [name] => Gast [tel] => [email] => [url] => [thumbnail] => ) ) [locations] => Array ( [67] => Array ( [id] => 67 [name] => Saal: erst.werk [address] => [latitude] => 0 [longitude] => 0 [url] => [thumbnail] => ) ) [categories] => Array ( [38] => Array ( [id] => 38 [name] => Tango Argentino ) ) [fields] => Array ( [0] => Array ( [label] => Zusätzliche Infos [value] => hier Karten buchen ) ) [filter] => raw ) [dates] => Array ( [0] => Array ( [start] => Array ( [date] => 2023-05-23 [hour] => 8 [minutes] => 30 [ampm] => PM [timestamp] => 1684873800 ) [end] => Array ( [date] => 2023-05-24 [hour] => 1 [minutes] => 30 [ampm] => AM [timestamp] => 1684891800 ) [allday] => 0 [hide_time] => 0 [past] => 1 ) ) [date] => Array ( [start] => Array ( [date] => 2023-05-23 [hour] => 8 [minutes] => 30 [ampm] => PM [timestamp] => 1684873800 ) [end] => Array ( [date] => 2023-05-24 [hour] => 1 [minutes] => 30 [ampm] => AM [timestamp] => 1684891800 ) [allday] => 0 [hide_time] => 0 [past] => 1 ) )